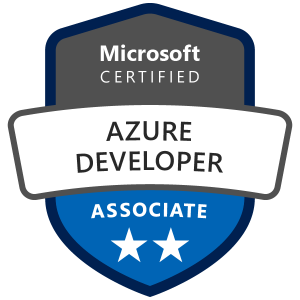 As I posted back in March, I have completed another Azure certification (Microsoft Certified: Azure Developer Associate). This time I took the AZ-204: Developing Solutions for Microsoft Azure exam. I took the exam back on April 15th and because the exam was in beta when I took it, I just got the results of the exam on May 28th. It was the first exam I have taken here at the house as opposed to going to a testing center. It wasn't too bad except for the dogs barking and not being able to get up to tell them to knock it off.
The next one up will be Exam AZ-400: Designing and Implementing Microsoft DevOps Solutions to get the Microsoft Certified: DevOps Engineer Expert.
Thanks to this COVID-19 stuff, I'm still looking for a new opportunity. If you are looking for a .NET Core developer, let me know.